Farewell Notice
Thursday, July 30, 2020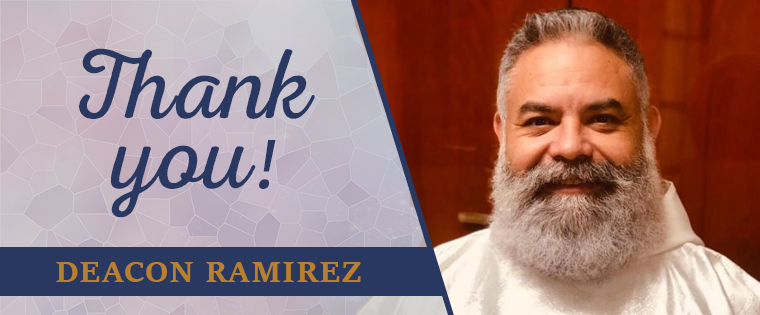 On behalf of Rev. Montes, we would like to announce that Deacon Ramirez will conclude his ministry at Our Lady of the Lakes effective August 9, 2020.
Deacon, we thank you for your dedication and hard work as you served the community of Our Lady of the Lakes. May you continue to be sustained by God's grace and may your life in the Lord's service always be filled with joy. God bless you!
En nombre del Rev. Montes, nos gustaría anunciar que el Diácono Ramírez concluirá su ministerio en Nuestra Señora de los Lagos a partir del 9 de agosto de 2020.
Diácono, le agradecemos su dedicación y arduo trabajo al servir a la comunidad de Nuestra Señora de los Lagos. Que continúe siendo sostenido por la gracia de Dios y que su vida en el servicio del Señor siempre esté llena de alegría. ¡Dios te bendiga!