Thursday, October 22, 2020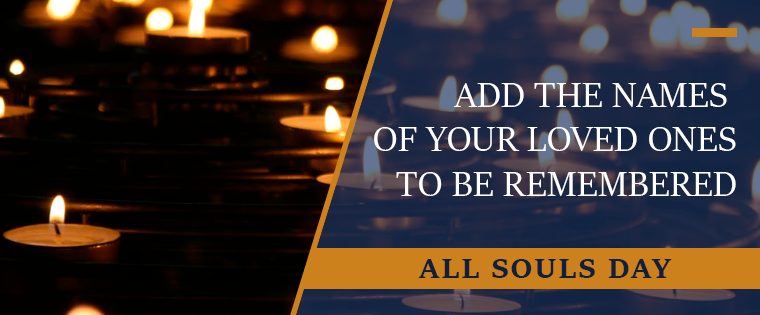 A Prayerful Remembrance:
Most Sacred Heart of Jesus, remembering the promise of the Resurrection,
I humbly and sincerely offer these prayers and Masses for my loved one(s).
I thank You for what we shared in this earthly life.
With hope, I pray this offering will help them on their journey
to the fullness of life and happiness with You in heaven.
Purify them from all that is not holy so they may dwell in the mystery of
Your perfect love forever. With blessed anticipation, I look forward to the
coming age, when, with Your grace, I shall be united with them again in paradise.
May the souls of all the Faithful Departed, through the mercy of God, rest in Peace.
Amen.
---
Misa de Recuerdo por Todas las Almas
Un recuerdo de oración:
El Sagrado Corazón de Jesús, recordando la promesa de la Resurrección,
ofrezco humilde y sinceramente estas oraciones y Misas para mi ser querido (s).
Te agradezco por lo que compartimos en esta vida terrenal.
Con esperanza, ruego que esta ofrenda le (s) ayude
en su viaje a la plenitud de la vida y la felicidad contigo en el cielo.
Purificarlos de todo lo que no es santo para que puedan morar
en el misterio de Tu amor perfecto para siempre.
Con gran anticipación, espero, con ansias, llegar a la edad, cuando,
con Su gracia, me uniré con ellos de nuevo en el paraíso.
Que las almas de todos los fieles difuntos, por la misericordia de Dios, descansen en paz.
Amén.