Message from Father Flavio Montes / Mensaje del Padre Flavio Montes
Wednesday, May 5, 2021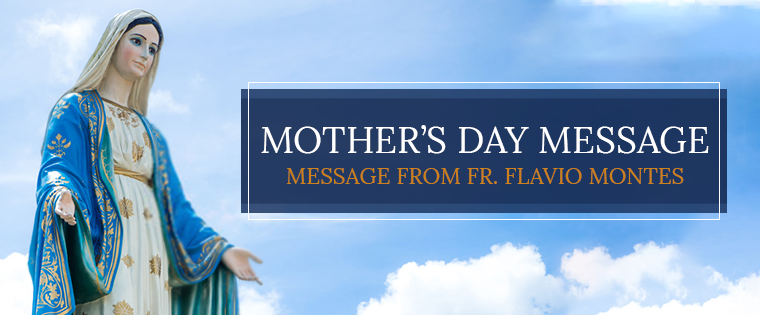 Every woman who God has blessed with the gift of motherhood has to know that her role of mother can have a great influence on the life of her children, because the mother is the first to impact the child, the first teacher, the first one to discipline, the first one to feed, and all of these have a very big effect on the lives of your children.
A mother is a special woman to whom so many times we go to for so many things, sometimes simple, but most often when we need her love and support. How much we have missed them during theses times when we have not been able to hug them or kiss them because we want to protect them as much as they have protected us throughout life.
We want to congratulate all the mothers in a month when we also come with deep love to Saint Mary, Mother of our Lord Jesus Christ, and our Mother. May she obtain, for all of you, dear mothers, the necessary Graces from Jesus Christ.
Happy Mother's Day!
Toda mujer que Dios le ha permitido ser madre tiene que saber que su papel de madre puede tener un impacto muy grande sobre la vida de sus hijos, pues la madre es la primera que da afecto al niño, es la primera maestra, la madre es la primera que disciplina, es la primera que alimenta, y todo esto tiene un efecto muy grande en la vida de sus hijos.
Una madre es una mujer especial a la que tantas veces acudimos para tantas cosas, incluso simples, pero sobre todo cuando necesitamos su cariño y su apoyo. Y cuánta falta nos han hecho durante estos tiempos en que tal vez no hemos podido abrazarlas ni besarlas, pues las queremos proteger tanto como ellas nos han protegido a lo largo de la vida.
Queremos felicitar a todas las madres en un mes cuando también veneramos con profundo amor a Santa Maria, Madre de nuestro Señor Jesucristo y Madre nuestra. Que ella les alcance, para todas ustedes, queridas madres, las gracias necesarias de parte de Jesucristo.
¡Muy Feliz Dia de Las Madres!