Children's Sacraments
Welcome Letter
Carta de Bienvenida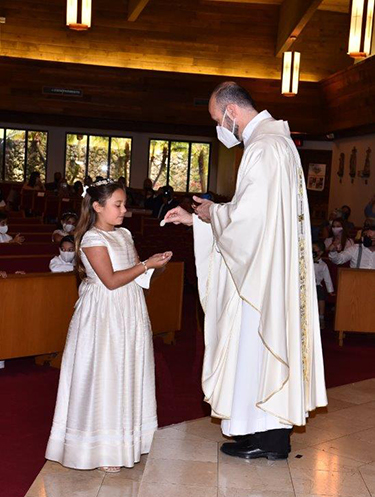 Dear Parents:
Our Religious Education program has an excellent team of catechists that will teach your children about the Catholic faith. Together, we will experience great joy when your children receive their Sacrament of First Holy Communion.
The program is structured for two years of catechesis. During both years, parents are going to be essential examples in their children's journey of faith. Students and parents must attend Sunday Mass during these years of preparation. One Sunday of the month, the catechist will invite you to participate as community with his/her class.
"Parent's Catechesis Day" is co-requisite. During the first year, in January, parents must attend a retreat sponsored by Why Catholic? Ministry. Second-Year students and parents must attend two retreats. Participation is highly recommended for both years.
Parents are invited to provide "10 Volunteer Hours" per year. There are two events to volunteer at OLL Spring Festival and Lent. Mrs. Rosemarie Morales, Volunteer Coordinator, will send you an invitation with dates and times.
Our mission of catechesis is supported by contributions obtained through registration. Your contribution are established on a FAMILY BASIS; meaning if there are one or more children from the same household. Your contribution for books and materials supports each student.
Contribution is as follow:
1st Year Catechesis
Registration
$200
PER FAMILY
Books & Materials
$50
PER CHILD
2nd Year Catechesis
Registration
$200
PER FAMILY
Books & Materials
$100
PER CHILD
Communion Class Schedule
Wednesdays: 4:30 PM - 6:00 PM
Saturdays: 9:00 AM - 10:30 AM
It is important to arrive on time for class and be on time to pick up your child for his/her safety. If your child is absent more than three times, it may delay receiving the sacraments. Every absence needs to be cleared with a parent's note. Late arrivals are recorded, three times tardy is considered one day absent.
Our Communion program follows a weekly lesson plan; chapters are not repeated. If your child is absent, you must visit our webpage and review missed chapters. The catechist will provide a chapter summary review when he/she returns to class. The catechist will keep a record of weekly class and mass attendance.
Documents required for registration*
Send a copy of the Baptism Certificate
** If parents are not married, separated, or divorced, both parents need to sign a consent form for the reception of the sacraments required by the Archdiocese of Miami.**
We appreciate your cooperation and understanding in this process.
Yours in Christ!
Josefina Vazquez, MSW
Directress of Religious Education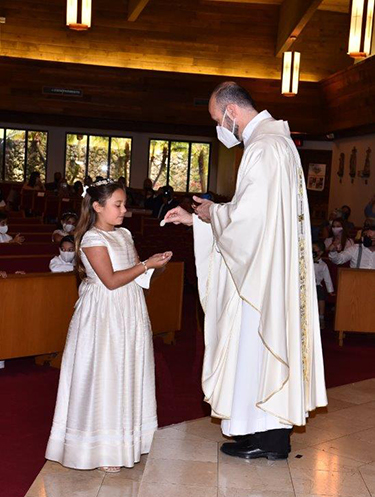 Queridos padres:
Nuestro programa de Educación Religiosa cuenta con un excelente equipo de catequistas que enseñarán a sus hijos sobre la fe católica. Juntos, experimentaremos una gran alegría cuando sus hijos reciban el Sacramento de la primera comunión.
El programa se estructura en dos años de catequesis. Durante ambos años, los padres serán un ejemplo esencial en el camino de fe de sus hijos. Los estudiantes y los padres deben asistir a la misa dominical durante estos años de preparación. Un domingo del mes, el catequista te invitará a participar como comunidad con su clase.
El "Día de la Catequesis de los Padres" es un co-requisito. Durante el primer año, en Enero, solamente los padres deben asistir a un retiro patrocinado por el Ministerio Por que se católico? Los estudiantes de segundo año y los padres deben asistir a dos retiros. La participación es muy recomendable para ambos años.
Se invita a los padres a proporcionar "10 horas de voluntariado" por año. Hay dos eventos para ser voluntario en OLL Spring Festival y Cuaresma. La Sra. Rosemarie Morales, Coordinadora de Voluntarios le enviará una invitación con fechas y horarios.
Nuestra misión de catequesis se sustenta en las contribuciones obtenidas mediante el registro. Estos aportes se establecen en BASE FAMILIAR; es decir, si hay uno o más niños del mismo hogar. Su contribución a los libros y materiales apoya a cada estudiante.
La contribución es la siguiente:
Catequesis del 1er año
Inscripción
$200
POR FAMILIA
Libros y materiales
$50
POR NIÑO
Catequesis del 2do año
Inscripción
$200
POR FAMILIA
Libros, materiales y sacramentos
$100
POR NIÑO
Horario de classes de Comunión
Miércoles: 4:30 PM - 6:00 PM
Sábados: 9:00 AM - 10:30 AM
Es importante llegar a tiempo a clases y ser puntual para recoger a su hijo por su seguridad. Si su hijo está ausente más de tres veces, puede retrasar recibir los sacramentos. Cada ausencia debe aclararse con una nota de los padres. Las llegadas tardes se registran, tres veces tarde se considera un día ausente.
Nuestro programa de Comunión sigue un plan semanal de lecciones, los capítulos no se repiten, si su hijo está ausente, debe visitar nuestra página web y revisar los capítulos perdidos. El catequista proporcionará un resumen del capítulo cuando regrese a clase. El catequista mantendrá un registro de la asistencia semanal a las clases y a la misa.
Documentos requeridos para el registro*
Envíe una copia del certificado de bautismo
** Si los padres no están casados, están separados o divorciados, ambos padres deben firmar un formulario de consentimiento para la recepción de los sacramentos requerido por la Arquidiócesis de Miami. **
Agradecemos su cooperación y comprensión en este proceso.
¡Suya en Cristo!
Josefina Vazquez, MSW
Directora de Educación Religiosa