Communion, Confirmation & RCIA Children
Religious Education Program registration is now CLOSED.
Enrollment for 2021-2022 Religious Education Program will begin in June 2021.
For questions or concerns please contact the rectory at (305) 558-2202.
Dear Parents:
Our Religious Education program has an excellent team of catechists that will teach your children about the Catholic faith. Together, we will experience great joy when your children receive their Sacrament. We will rejoice together in achieving this great success.
Our program is structured for two years of catechesis. During both years, parents are going to be essential examples in their children's journey of faith. One Sunday of the month, the catechist will invite you to participate as community with her class.
"Parent's Catechesis Day" is co-requisite during the two years of preparation and parents' attendance is documented every year. Parents are invited to provide 10 Volunteer Hours for each year. There are two events when your participation as volunteer is needed: OLL Spring Festival and Lenten Soup and Stations of the Cross. Rosemarie Morales, Volunteer Coordinator, will send you an invitation with dates and times.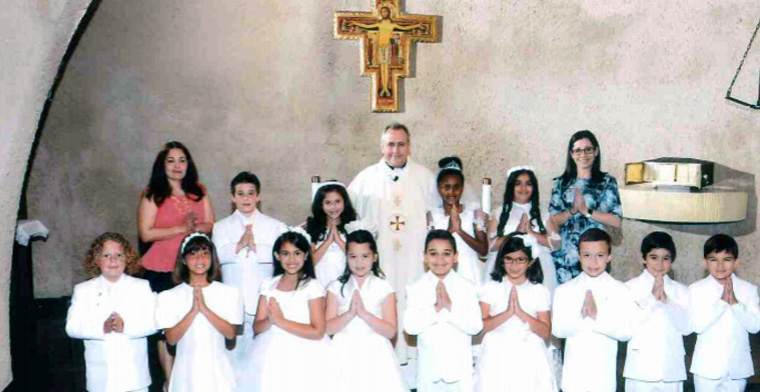 Contributions
Our mission of catechesis is supported by contributions obtained through registration. Your contribution underwrites the operating costs for the Religious Education Program to accomplish our yearly goals. Those contributions are established on a family basis; this means that if you have one or more children attending catechesis, your registration is PER FAMILY. Your Contribution for books and materials supports our Religious Education programs.
Membership to the parish will benefit you during registration process. You need to be registered and contributing for at least six consecutive months.
Active Members

Non-Members

1st Year Catechesis
Registration
PER FAMILY
$175
$200
Books & Materials
PER CHILD
$50
2nd Year Catechesis
Registration
PER FAMILY
$175
$200
Books, Materials & Sacrament
PER CHILD
$100
Tuition contribution must be paid in full at the time of registration
Class Schedule
Communion Wednesdays from 4:15 PM - 5:45 PM and Saturdays from 9:00 AM - 10:30 AM
Confirmation Wednesdays from 7:00 PM - 8:30 PM and Saturdays from 9:00 AM - 10:30 AM
RCIA Children Sundays from 9:00 AM - 10:30 AM
It's important to arrive on time and be on time to pick up your child for safety. If your child is absent more than 3 times, it may delay receiving his/her sacraments. Every absence needs to be cleared with a parent's note. 3 times tardy is considered 1 day absent.
Our program follows a weekly lesson plan; chapters are not repeated. If your child is absent, you must contact your child's catechist. Class and Mass attendance are documented by catechist.
Participants and parents must attend Sunday Mass during the two years of preparation. 2nd year students must attend Retreat with parents and rehearsals with sponsors.
Documents required for registration
Provide a copy of the following documents during registration:
CHILD:
PARENT:
Baptism certificate (from one of the parents)
SPONSORS:
Only for Confirmation and RCIA students
Baptism Certificate
Confirmation Certificate
Catholic Marriage Certificate, if married
Sponsor letter from where faith is practiced
When Selecting your Sponsor
"A sponsor needs to be at least sixteen or older, have been confirmed, participate in the blessed Eucharist and live a life of faith. The sponsor cannot be the mother or the father." [C.C.L.874]
Please consider if this person is in fact living their Catholic faith; this person should be someone very special in your Christian life, someone meaningful that will share their Love for God with you.
Participant and sponsor documents must be submitted at the time of registration. We appreciate your cooperation and understanding in this process.
If you have any questions, please do not hesitate to contact me.
Yours in Christ!
Josefina Vazquez, MSW
Directress of Religious Education