Children's Sacraments
Welcome Letter
Carta de Bienvenida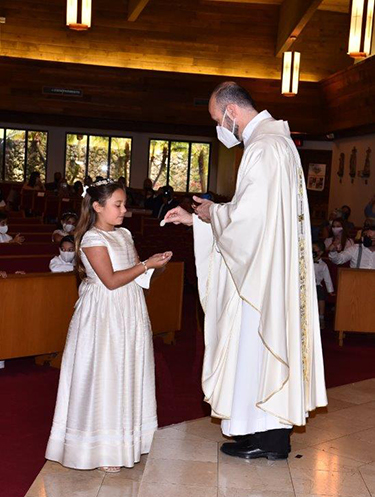 Dear Parents:
Our Religious Education program has an excellent team of catechists that will teach your children about the Catholic faith. Together we will celebrate a joyful day when they receive their First Holy Communion, a new lifelong commitment to their faith.
The program is for two years of catechesis; Classes are at the school site, and Mass attendance is at our parish; students participating in Sunday Mass will help them to become familiar with liturgy routines and songs, besides meeting priests and deacons.
The Parent's role during the preparation years is to be active participants by bringing their children every Sunday to Mass; in this way, they will be helping their children practice what they learn in class and be ready to receive their sacrament. Catechists share a yearly calendar when classes begin for students and their families for monthly Sunday Mass attendance.
PARENT CATECHESIS DAY
During both preparation years, parents must attend one retreat per year. Parents must sign in and will be filed in their child's records. Parents must attend a retreat in January for the first and second years. The calendar is on the website.
VOLUNTEER HOURS
Parents must complete 10 Volunteer Hours per year. The parish holds the Spring Festival, where your participation as a volunteer is needed; Parents must have a signed form from the festival booth coordinator to report their hours and hand it out to the respective catechists.
REGISTRATION
Registration is open by application ONLY on the website www.ollnet.com.
The contributions obtained through registration support our catechesis programs by underwriting the operating costs for the Religious Education Program to accomplish yearly goals.
The registrations are on a FAMILY BASIS. This means that there will be an additional contribution for books and materials for every children attending catechesis that lives in the same household.
Tuition contribution must be paid in full at the time of registration:
1st Year Catechesis
Registration
$200
PER FAMILY
Books & Materials
$50
PER CHILD
2nd Year Catechesis
Registration
$200
PER FAMILY
Books & Materials
$100
PER CHILD
COMMUNION CLASSES SCHEDULE
Wednesday: 4:30 PM - 6:00 PM
Saturdays: 9:00 AM - 10:30 AM
Mass Attendance: Sundays at 9:30 AM OR 11:00 AM Mass
ATTENDANCE
Children must be on time for classes and leave school premises on time for their safety. Parents must observe their child's selected program schedule. If necessary, notify the office of the persons authorized to take the children to avoid future misunderstandings.
ABSENCES: 3 absences or more may delay receiving the sacraments.
Parents must send an excuse note to catechists on the day reported via email.
TARDY: 3 times tardy is considered one day absent.
Our program follows a weekly lesson plan; parents must call the catechist for the chapter missed or visit the website to check for the chapter missed on the "Lesson Plan". When children return to class, their catechist will provide a chapter review. Catechists keep chapter reviews for all students and keep a record of each student for the class and Mass attendance every week; therefore, children must bring a slip from mass every week.
Monthly performance evaluations will be sent to parents by the catechists. This report will include class and Mass attendance with recommendations from the catechists. For students' performance below 60 or behavior issues, a parent-catechist meeting will follow with the Program Coordinator and Director.
DOCUMENTS NEEDED FOR REGISTRATION
Submit a Copy of the Baptism Certificate
We welcome you into our family of faith at OLL!
Yours in Christ!
Josefina Vazquez, MSW
Directress of Religious Education & Faith Formation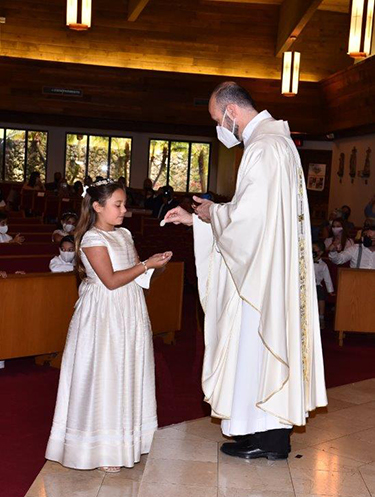 Estimados padres:
Nuestro programa de Educación Religiosa cuenta con un excelente equipo de catequistas que enseñarán a sus hijos sobre la fe católica. Juntos celebraremos con alegría cuando reciban su Primera Sagrada Comunión, un nuevo compromiso de porvida con su fe.
El programa es de dos años de catequesis; las clases son en la escuela y la asistencia a misa es en nuestra parroquia; los estudiantes que participan en la misa dominical se familiarizaran con las rutinas litúrgicas y los cantos, además de conocer a los sacerdotes y diáconos.
El papel de los padres durante los años de preparación es ser activos participantes trayendo a sus hijos todos los domingos a Misa; de esta manera, estarán ayudando a sus hijos a practicar lo que aprenden en clase y estar listos para recibir su sacramento. Los catequistas comparten un calendario anual cuando comienzan las clases para que los estudiantes y sus familias asisten junto con su clase mensualmente a la misa dominical.
CATEQUESIS PARA LOS PADRES
Durante ambos años de preparación, los padres deben asistir a un retiro que será en el mes de enero. Los padres deben firmar la hoja de asistencia que se mantendrá en el archivo de su hijo (a). El calendario estará disponible en la página web.
HORAS VOLUNTARIAS
Los padres deben completar 10 horas voluntarias por año. La parroquia realiza el festival de primavera, donde se necesita su participación como voluntario; Los padres que participan en el festival deben de llenar una forma que será firmado por el coordinador y después entregarlo a los respectivos catequistas.
MATRICULA
La aplicación está disponible SÓLO en el sitio web www.ollnet.com.
Las contribuciones obtenidas a través de la matricula respaldan nuestros programas de catequesis al sufragar los costos operativos del Programa de Educación Religiosa para lograr las metas anuales.
La Matricula se llama FAMILIAR, es decir, si tiene uno o más hijos que viven en el mismo hogar. Para que cada estudiante acceda a los que necesita en clase, hay una contribución adicional para libros y materiales.
La contribucion debe ser completada durante la matricula:
1er año de catequesis
Matricula
$200
POR FAMILIA
Libros y materiales
$50
POR NIÑO
2do año de catequesis
Matricula
$200
POR FAMILIA
Libros y materiales
$100
POR NIÑO
HORARIO DE LAS CLASES DE COMUNION
Miércoles: 4:30 PM - 6:00 PM
Sábados: 9:00 AM - 10:30 AM
Asistencia en la misa: Domingos a las 9:30 AM O 11:00 AM
ASISTENCIA
Por la seguridad del estudiante, la entrada y salida de la clase deber ser en el horario establecido. La salida de los niños solo será con las personas autorizadas por ustedes. Es necesario que notifique a la oficina de las personas que usted autorizara para evitar futuros malentendidos.
AUSENCIA: 3 ausencias o más pueden retrasar recibir el sacramento.
Los padres deben comunicar a la catequista que no vendrá a clase el niño (a) y enviar una nota por correo electrónico, de lo contrario la catequista lo llamará para saber el motivo de la ausencia.
TARDANZA: 3 tardanzas se consideran un día de ausencia.
Nuestro programa sigue un plan de lecciones semanales; los padres deben llamar al catequista para saber el capítulo perdido y prepararlo para cuando regrese por que su catequista le tomara un examen. Mantener la asistencia a la clase y a misa dominical son los requisitos del programa que la catequista mantendrá en su récord.
Los catequistas enviarán evaluaciones de desempeño mensual a los padres. Este informe incluirá la asistencia a clases y misas con recomendaciones. Para el rendimiento de los estudiantes por debajo de 60% o situaciones de comportamiento, se realizará una reunión de padre, catequista con la coordinadora del programa y la Directora.
DOCUMENTOS PARA LA MATRICULA
Copia del certificado de bautismo
¡Le damos la bienvenida a nuestra familia de fe en OLL!
¡Suya en Cristo!
Josefina Vazquez, MSW
Directora de Estudios Religiosos y Formación de Fe.