Confirmation & RCIA Adults
Welcome Letter
Carta de Bienvenida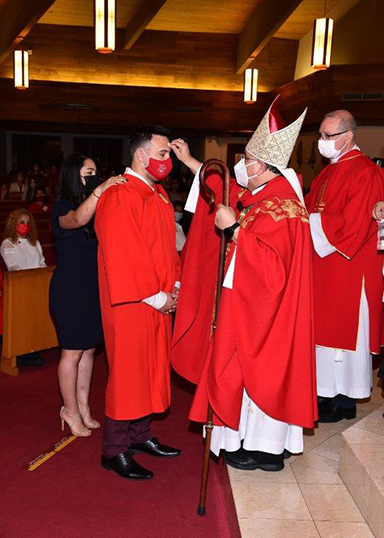 Dear Participant:
The Religious Education Program will work for you to encounter Christ in your journey of conversion to the Catholic faith. The excellent team of catechists will join you to develop a closer relationship with God. Together, we will experience great joy when we celebrate receiving your sacraments.
REGISTRATION
Registration is open by application ONLY on the website www.ollnet.com.
The contribution is $150.00 for adults.
Students will receive a bible, catechism, a lesson binder, and a robe (After the ceremony the robe is to be returned).
Adults, after your application, you will receive a call for an interview before you are accepted in class.
CLASSES SCHEDULE
The adult program classes are given weekly in both languages English and Spanish. The program consists of between 26-32 weeks.
ENGLISH
9:00 - 10:45 am
Mass Attendance:
11:00 am Mass after class
SPANISH
9:00 - 11:00 am
Mass Attendance:
8:00 am Mass before class
ABSENCES: The lesson plan is weekly; therefore, if you are absent, work with your catechist for makeup. An excessive number of absences may delay you from receiving your sacraments.
SPONSORS FOR PARTICIPANTS
"A sponsor needs to be at least sixteen or older, have been confirmed, participate in the blessed Eucharist and live a life of faith. The sponsor CANNOT be the mother or the father"
[C.C.L.874]
DOCUMENTS NEEDED FOR REGISTRATION
PARTICIPANT:
Birth certificate, if you are not baptized [verification of legal name]
Baptism certificate, if you are baptized

(*)

Communion Certificate, if you did your communion
Marriage Certificate, if married civilly

(**)
(*) The participant's name will appear in the sacraments certificate like it was written on the baptism certificate.
(**) If you or your spouse has been married before, there are protocols to follow according to the Metropolitan Tribunal from the Archdiocese of Miami that handles these issues relating to marriage, i.e., dispensations and annulments. If you are married civilly, to receive your sacraments, you will need to co-validate your civil marriage into the catholic marriage.
You need to inform us, at the time of your application, of your personal situation. There are advocates certified by the Archdiocese who will be assisting you in this process. Every case is individual, and all information is kept confidential.
You will not be able to receive your sacraments until a dispensation or annulment has been approved.
SPONSOR:
The Archdiocese requires that to be a Sponsor you must provide a copy of the following documents:
Certificate of Baptism
Certificate of Confirmation
Catholic Marriage certificate, if you are married
Letter from your Parish Sponsor
Documents for the participant and sponsor must be presented during application. If you request a sponsor, we will provide one. Our parish has a group of volunteers who live a life of faith, and they are eager to assist you in your journey.
Do not hesitate to contact me if you have any questions at jvazquez@ollnet.com.
Yours in Christ!
Josefina Vazquez, MSW
Directress of Religious Education & Faith Formation
Querido Participante:
El Programa de Educación Religiosa trabajará para su encuentro con Cristo en su camino de conversión a la fe católica. El excelente equipo de catequistas se unirá a usted para desarrollar una relación más cercana con Dios. Juntos, experimentaremos una gran alegría cuando celebremos recibiendo sus sacramentos.
MATRÍCULA
La aplicación de matrícula es solo en línea www.ollnet.com.
El aporte de registración es de $150.00 para el programa de adultos.
Los estudiantes recibirán una biblia, catecismo, una carpeta de lecciones y una túnica (después de la ceremonia se devuelve la túnica).
Adultos, después de su solicitud, recibirán una llamada para una entrevista antes de ser aceptados en la clase.
HORARIO DE LAS CLASES
Las clases del programa para adultos se imparten semanalmente en ambos idiomas, inglés y español. El programa consta de entre 26-32 semanas.
INGLÉS
9:00 - 10:45 am
Asistencia a misa:
Misa de las 11:00 am después de la clase
ESPAÑOL
9:00 - 11:00 am
Asistencia a misa:
Misa de las 8:00 am antes de la clase
AUSENCIA: El planeamiento de lecciones es semanal; por lo tanto, si está ausente, usted trabajara con su catequista para recuperarlo. Un número excesivo de ausencias puede retrasar la recepción de los sacramentos.
PADRINO O MADRINA
"Un padrino debe tener al menos dieciséis años o más, haber sido confirmado, participar en la santísima Eucaristía y vivir una vida de fe. El padrino no puede ser la madre ni el padre [C.C.L.874].
DOCUMENTOS NECESARIOS PARA LA MATRÍCULA
PARTICIPANTE:
Acta de nacimiento, si no está bautizado [verificación de nombre legal]
Certificado de bautismo, si está bautizado

(*)

Certificado de Comunión si hiciste tu comunión
Acta de Matrimonio, si está casado civilmente

(**)
(*) El nombre del participante aparecerá en el certificado de sacramentos como fue escrito en el certificado de bautismo.
(**) Si usted o su cónyuge han estado casados anteriormente, existen protocolos a seguir según el Tribunal Metropolitano de la Arquidiócesis de Miami que maneja estos asuntos relacionados con el matrimonio, es decir, dispensas y anulaciones. Si está casado por lo civil, para recibir sus sacramentos, necesitará convalidar su matrimonio civil en el matrimonio católico.
Debe informarnos, en el momento de su solicitud, de su situación personal. Hay defensores certificados por la Arquidiócesis que lo estarán asistiendo en este proceso. Cada caso es individual y toda la información se mantiene confidencial.
No podrá recibir sus sacramentos hasta que se apruebe una dispensa o anulación.
PADRINO O MADRINA:
La Arquidiócesis requiere que para ser Patrocinador se presente copia de los siguientes documentos:
Certificado de bautismo
Certificado de confirmación
Certificado de matrimonio católico, si está casado
Carta de su patrocinador parroquial
Los documentos para el estudiante y el patrocinador deben presentarse durante la aplicación de matrícula. Si solicita un patrocinador, le proporcionaremos uno. Nuestra parroquia tiene un grupo de voluntarios que viven una vida de fe y están ansiosos por ayudarlo en su jornada.
No dude en ponerse en contacto conmigo si usted tiene alguna pregunta, por este medio a jvazquez@ollnet.com.
¡Suya en Cristo!
Josefina Vazquez, MSW
Directora de Estudios Religiosos y Formación de Fe