Baptism / Bautismo
Dear Parents:
Our Religious Education program has an excellent team of catechists that will share with you about the Sacrament of Baptism in the Catholic faith. Together, we will experience great joy when your child receives the Sacrament of Baptism!
Parents and Godparents are required to attend the "Baptismal Preparation Class". Participation is a pre-requisite to baptize your child. On this day, you will receive a certificate of attendance valid for two years.
In the case that one of the parents professes another faith or parents are divorced/separated/living together; both parents need to sign a consent form required by the archdiocese for the infant's baptism.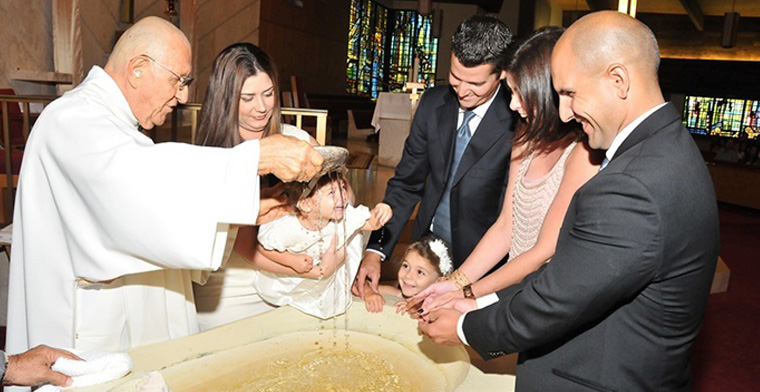 Our program has monthly preparation classes. You may visit our REGISTRATION page to facilitate your process. Please check the baptism CALENDAR for detail information for classes and sacrament of baptism dates in both languages. Registration for the Pre-Baptismal class is during the first week of each month and must be done at least three months in advance.
ALL DOCUMENTS MUST BE PROVIDED DURING REGISTRATION.
To confirm the date of baptism you must complied with all the requirements for the child, parent and godparents. DO NOT SEND INVITATIONS FOR CELEBRATION UNTIL YOU RECEIVE YOUR CHILD'S APPROVED BAPTISM DATE LETTER VIA E-MAIL.
The Infant Baptism Program is supported by parents' contributions to underwrite the operating costs to accomplish the yearly goals.
Active members need to be contributing for at least six months
| | |
| --- | --- |
| Registered Active Members | $50.00 per family |
| Registered Not-Active Members | $100.00 per family |
| Parishioners non Registered | $100.00 per family |
These contributions are greatly valued and must be paid in full at the time of registration.
Documents required for registration
Provide a copy of the following documents during registration:
CHILD:
Birth Certificate (to identify child)
PARENT:
Baptism certificate (from one of the parents)
GODPARENTS:
Baptism Certificate
Confirmation Certificate
Catholic Marriage Certificate, if wedded
Sponsor letter from where faith is practiced
When Selecting a Godparent
"A sponsor needs to be at least sixteen or older, have been confirmed, participate in the blessed Eucharist and live a life of faith. The sponsor cannot be the mother or the father." [C.C.L.874]
Please consider if this person is in fact living their Catholic faith; this person should be someone very special in your Christian life, someone meaningful that will share their Love for God with you.
REMEMBER:
You will be notified via e-mail for the pre-baptismal class you requested
Do not make invitations for celebration until you receive the baptism date approved letter via e-mail.
If you don't receive via e-mail your notification letter for your preparation class requested within a week, you must contact the office immediately.
If you have a child between the ages of 7 and 17 and you would like to have them Baptized, learn more about our Religious Education program here.

If you are an adult 18 years or older and interested in being Baptized, learn more about RCIA here.
Yours in Christ!
Josefina Vazquez, MSW
Directress of Religious Education