Mass Schedule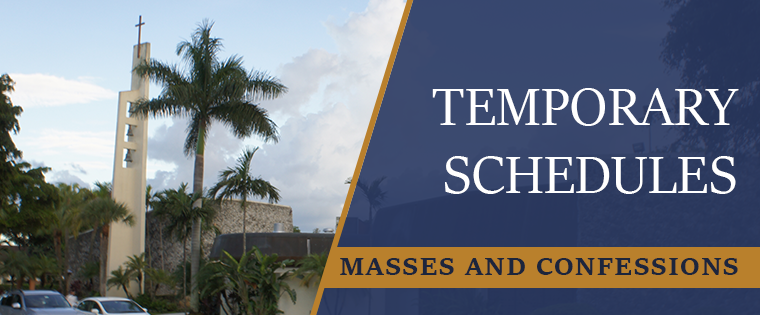 Notice: Due to the limited occupancy in the Church as to comply with social distancing, we will only allow those that comply to the norms on a first-come first-served basis. We understand that this may be an inconvenience. We ask for your kindness and help.
Daily Mass (Monday – Friday) - Parish Hall
7:00 AM Español
8:30 AM English
Saturday (Anticipated Sunday Mass)
5:00 PM EnglishThis Mass will be live streamed on YouTube
Sunday
8:00 AM EspañolEsta misa se transmitira en vivo a través de YouTube
10:00 AM English
12:00 PM Español
Temporary Schedule for Confessions (by appointment only)
Confessions will take place on Thursdays and Fridays 10:00 AM to 12:00PM. To ensure privacy and a safe environment for the reception of the sacrament, we ask you to call the office for more information.
Online Masses / Misas en vivo
For those who wish to watch the Mass at home, the Saturday 5:00 PM Mass in English and Sunday 8:00 AM Mass in Spanish will be livestreamed on our YouTube channel. After the livestream, the Mass will remain uploaded on our YouTube channel for you to watch at any time throughout the weekend.
Please subscribe to our YouTube channel and join our Facebook group to stay connected!
Para aquellos que deseen ver la misa en casa, la misa del sábado a las 5:00 pm en inglés y la misa del domingo a las 8:00 am en español se transmitirán en vivo en nuestro canal de YouTube. Después de la transmisión en vivo, la Misa permanecerá cargada en nuestro canal de YouTube para que la vea en cualquier momento durante el fin de semana.
¡Suscríbete a nuestro canal de canal de YouTube y únete a nuestro grupo de Facebook para mantenerte conectado!