46th Annual Spring Festival - Sponsors
March 05-08, 2020
We would like to express our appreciation and special thanks to our Grand Sponsors and to the Diamond, Platinum, Gold, Silver, and Bronze Sponsors of our Forty-Sixth Annual Spring Festival!
Car Grand Sponsor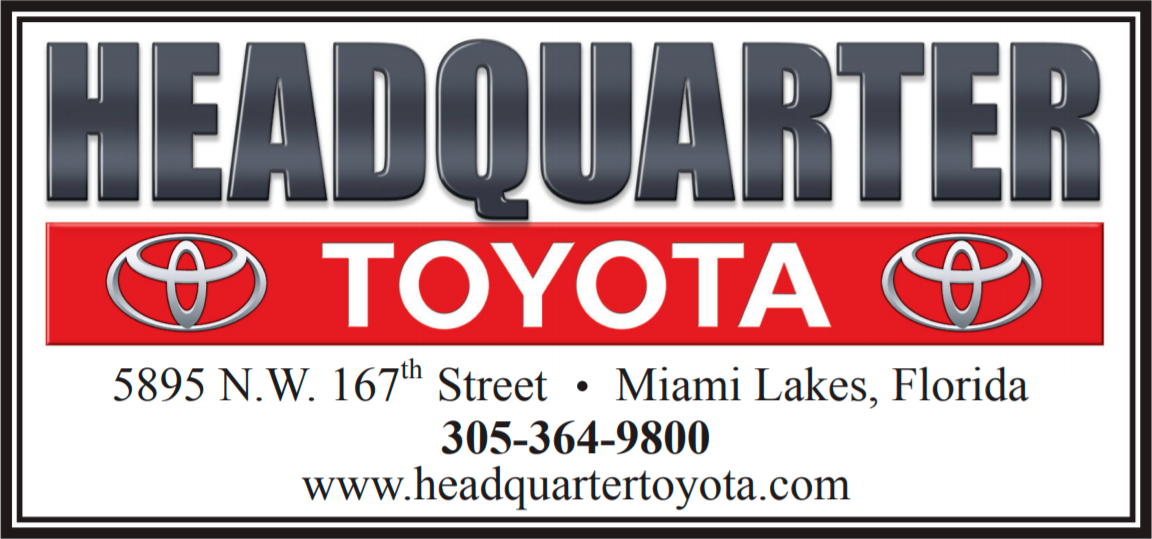 Grand Sponsors



Diamond Sponsors
Platinum Sponsors
Gold Sponsors
1First Bank Florida
1One Low Price Cleaners
Alex Rizo
All Uniform Wear
Allergy and Immunology Care Center of South Florida
AMERANT
Ana G. Mendez University
BJ's Wholesale
Bolay Restaurant – Miami Lakes
Bradford & Associates, P.A.
Brady Fire Equipment, Inc.
Caparros Family
Cuevas Eye Center
Dorta & Ortega
Dade Lift Parts & Equipment, Inc.
Dr. Ladys Cabrera, P.A.
Enhanced Living Therapy
Eye Candy - Miami Lakes
Flash Lube Miami
Full Potential Learning Academy
GEMRT-Public Accountants
Gus Machado Ford
Intensity Dancer's Studio
Karate America
Main Street Children's Dentistry & Orthodontics
Mathnasium of Miami Lakes
Meraki Wellness & Healing
MGM Case Management Services Inc.
Miami Dancity Studios
Miami Lakes Adult Day Care
Miller Lite
My Family Physicians
New York Life
Ocaquatics Swim School
OLL Women's Club
Raquel Cotilla Platt, RE/MAX Unique Realty
SeaBoard Marine
Specialized Investigations Consultants LLC
The Orsini Family
The Rivera Family
Silver Sponsors
Affordable Auto Glass
Alberto de Cardenas, D.M.D.
Always at Your Side Adult Day Care
Annette Sanchez Law, P.A.
Appraisal Associates of Dade, Inc.
Barlop Business Systems
Bello Dental Center
Buzzella Family
Caribbean Technical Services, Inc.
Casavana Cuban Cuisine – Miami Lakes
Catholic Hospice
Computer Management Solutions
Congressman Mario Diaz-Balart
Costa & Associates Attorneys at Law
Costa Realtors
Councilman Luis Collazo
Croce & Associates
Danilo Nanni
Dieguez & Associates, PLLC.
Dr. Raul Vila & Family
Dynasty Apparel
Express Auto Air Corp.
Future Force Personnel
Gastesi, Lopez & Mestre PLLC
Gauchos Gourmet Market – Miami Lakes
Hemisphere Title Company
HJ Miami Photo
In Memory of our Parishioner, Richard Nerod
Intercontinental Marble Corp.
J.S. Paluch Company
Jersey Mike's Subs
JP Realty, Inc.
Kairos Roofing LLC
KGV Plumbing
Knights of Columbus Council #4772
Lakes Dental P.A.
Leon Medical Centers
Liza Mendez, EWM Realty
Magaly Rubio – Coldwell Banker
Manny Reus Architect
Matrimonio 2000
Mayor's Cafe
Men's Emmaus
Miami Lakes Chamber of Commerce
Miami Lakes Eye Care Center
Miami Lakes Surgery Center
MotorBreeze
Mr. & Mrs. Richard A. Yanez & Family

Nelson Rodriguez
Nick's Auto Center
Oak Springs Dentistry
OLL Women's Club
Pablo & Sabrina Palacio
Pediatric Associates
Peña Foods
Perla Tabares-Hantman
Perry Ellis International
Professional Bank
Qualified Title Services, LLC.
Quality Gardeners
Rainbow Transmission
René Garcia
Rilion Gracie Jiu-Jitsu
RY Equipment Trading LLC.
Sanfer Sports Cars
Shula's Athletic Club
Sir Speedy Printing – Miami Lakes
TD Bank – Miami Lakes The Arnedo Family
The Elias Law Firm, PLLC.
The Fernandez-Guzman Family
The Graham Companies
The Jurado Family
The Pinto Family
The Reus Family
The Sanchez Family
The UPS Store of Miami Lakes
Thomas Fabricio
Thomas Ledwidge State Farm
Trattoria Pampered Chef.
Travel-Tech
Vigilante Associates Custom Glass Systems
Women's EMMAUS
Zayas Men's Shop & Tuxedos

Bronze Sponsors
Aly & Cindy Costa
Anacapri Italian Kitchen & Wine Bar
Bob's Barricades
Caproni & Perez, P.A.
Evolution Dance & Performing Arts
Glenda Anders Performer
Kelley, Kronenberg, P.A.
Kidz City Dance Studio
Sergio Duran Group/Keyes Company
The Pinilla Family
Victoria Alvarez
Westland Insurance Agency
Yummy Foods